My name is Kenneth and I write cool Mac and iPhone software. This is my personal weblog where I post about stuff I find interesting. I usually write about Mac development, the business of shareware and the Mac community in general.
read more →
Introducing Econ, the screensaver that uses your icons!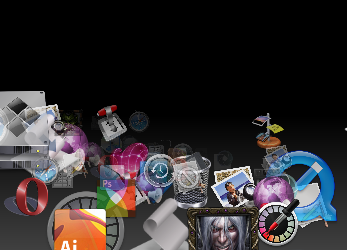 Note: This screenshot is UGLY. Screen capture just wouldn't capture a smooth image…
Click on the screenshot to get a nice QuickTime preview of the screensaver.
Econ is Leopard-only and requires a decent graphics card & CPU.
Download Econ
Update: In Snow Leopard, you need to launch System Preferences in 32-bit mode in order to be able to select Econ from the list of screensavers. To open System Preferences in 32-bit mode, right-click on its icon, choose Get Info and check the Open In 32-bit Mode checkbox.
---
This entry was posted on Monday, November 19th, 2007 at 4:28 pm and is filed under
Apple
,
Interface
,
Uncategorized
. You can follow any responses to this entry through the
RSS 2.0
feed. You can
leave a response
, or
trackback
from your own site.
---
Add your thoughts!
67 Comments